Magimix gift ideas
BBS ltd supply the full range of Magimix juicers, including the Le Duo juice extractor, which are ideal gifts for friends and family who enjoy looking after themselves, these machines are innovative and superbly functional. The power of the Magimix Le Duo juicer is remarkable; with its unique design you can create all kinds of tasty drinks including smoothies and home made fruit punch, perfect for those hot summer days and nights. Simply place the fruits of your choice and of any combination into the juicer, press the button and wait for your juice to flow freely out. for those who desire healthy eating with natural ingredients the le duo juicer can produce healthy drinks in seconds. Every juicer has been tailored to suit any home in its appearance, with a range of colours which are both attractive and classic.
A Magimix coffee machine is the perfect addition to any kitchen in a
home where great tasting fresh coffee with a delicious aroma is a must. Experience the most amazing coffee you have ever had every day and at any time, with a superb coffee maker. You will be experiencing the height of luxury when you sit back and relax at home with your tasty beverage that smells wonderful. The Pixie although small, only 11cms wide x 23 cms high, it has a powerful 19 bar pressure system, Automatic and programmable water quantity control for small or large cups, which means you can set your cup size, so this is memorized, so you can walk away from machine and when you go back to it the exact amount is delivered into cup.
The Magimix 11578 digital steamer is a Must for healthy eating, features include Two 5.5 litre easy to clean stainless steel steaming baskets, so there is no taste of plastic in food, bottom basket with holes to steam eggs, Top basket with removable base for large steaming e.g. whole chicken or large Christmas pudding. Glass lid which is dishwasher safe with easy grip handle, Stainless 2 litre rice cooker bowl and plastic lid , also ideal for warming sauces. Automatic boil dry buzzer. On off indicator. Removable cable and plug set. 4 pre-set cooking programmes: Meat, Fish, Reheat, Yoghurt
C'est Ca Aprons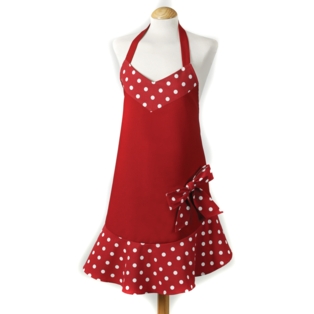 Aprons used to be for cooking!! with these Stylish aprons they are practical, fun, you will impress your guests, friends and neighbours with this stunning looking 100% cotton garment.

Stylish C`est ça! aprons are built to last, the neck tapes and back ties are cut and folded from the same material as the aprons, imagine impressing your guests, whilst serving the Christmas Dinner or making the ideal gift this xmas. Made in Norwich, England.

The C`est ça! Red Belle Range includes a range of oven mitts and gauntlets.
Click here
Magimix toaster and kettles.
Toasters are always a favorite wedding gift but the Magimix Toaster range are designed and engineered to give quality toast every time…its that simple. The new electric toaster range is easy to use whilst offering the versatility to defrost, warm and toast most types of bread, baguettes, bagels, croissants, buns, teacakes, crumpets, brioche, and waffles. They provide a number of features and benefits including extra wide slot , accurate timing, extra lift lever, bun warming racks for croissants and rolls, long life elements and three year guarantees. The Magimix kettle is equally simple this has a stainless steel insulated double wall in which the body retains temperature and reduces noise, a removable filter and suberb lighting to match the toaster these are Available in a range of suberb finishes, to suit your requirements and kitchen. This kettle and toaster range provides quality, robustness and reliability so will make ideal presents that will last for years.
Magimix Accessories make excellent gifts for old and new.
All Magimix Food processors come with an array of accessories and spare parts to make sure that your time spent preparing food in the kitchen is both uncomplicated and creative. However additional accessories are always a good birthday gift for the chef. BBS ltd supplies accessories and spare parts for all these food processors to perform a variety of functions. you could make a gift of a spare bowl, to hold your ingredients as they are processed and to make it simple to transfer these ingredients once the processing has finished. Magimix spare parts are ideal gifts, there are slicer discs, grater discs, parmesan discs, julienne discs available to expand the tasks you are undertaking, providing versatility for the processing task, smoothie makers, citrus presses or even just replacement bowls for the very oldest machines, some mixers are up to 38 years old.
Baby shower gifts for the New baby boy or baby girl
For that new baby in the family, an excellent choice for a baby shower gift would be the Magimix Le Micro mini chopper this small neat machine has been thoroughly tested with various cooked vegetables for babie`s first solid meals, to ensure that for each function it produces those faster, consistent results that the home cook demands. The lid has a compartment with a hole so you slowly add oil for making mayonnaise, with a plastic blade is used for this task. It is excellent at finely chopping fruit, herbs, spices, nuts, fruit, vegetables, fish and meat. It is also very simple to use, with just one pulse to ensure precision control and prevent over processing of contents. makes a very attractive baby gift for the proud mum who enjoys cooking.