Magimix Main Metal Blade Knife 4000 4100 4150 4200 4200xl
Details:
Sabatier stainless steel blade 9 cms high - New Grey to reduce staining. Main blade for 4000 4100 4150 4200 4200xl S blade for large bowl
Description:

This product has a Magimix Three year guarantee for domestic use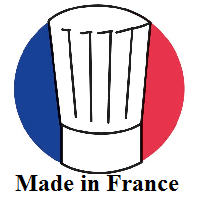 Magimix 17480 Double Blade for 4000, 4100, 4200 or 4150, 4200xl Please check model before ordering.
How to Check if worn inside - there should be two flat sides as you look into the centre tube of blade from below, if the sides are rounded out you need to Click here 17715 to order new blade kit. ** Signs of worn spindle - blade will not turn but the motor is going round or the blade gets stuck on Spindle. This has been damaged by overloading with heavy mixture or not putting blade on correctly. Please follow Magimix recipe quantities and manufacturers instructions.
If there is discolouring of the plastic on the main blade, This will occur when blending carrots and other foods with very deep colouring, simply wipe plastic with some vegetable oil. This will take the colouring off but not completely. These Blades can be sharpened, but you must only take the burrs off the bottom edge, this can be done with a sharpening stone, you must keep the blade flat on the stone, do not angle. tip: when making cakes remember to take pusher out of feed tube, so as to let air into mixture.
please see http://www.magimix-spares.co.uk/usingmagimix.asp

Click images below - to see other Kitchen Gadgets from BBS ltd
BBS supply a range of high quality bake ware, stylish cookware, kitchen gadgets, tools, utensils and kitchen Equipment accessories. We have extensive knowledge of cooking and baking and have used this to choose robust and innovative kitchen accessories.
C`est Ca! Aprons are Practical but stylish garments they are made in Norwich, England from quality 100% cotton.
Belle is an exciting range with panelled Aprons, standard Aprons, gauntlets, oven gloves and even a matching shopping bag you will really be accessorizing the kitchen with these glamorous kitchen items.
Bake-o-glide has a variety of different cookware products including The original Bake-O-Glide Multigrade, Superior non-stick, reusable cooking liner Smoother, stronger and thicker. 100%PTFE coating, with care will last 100`s of times giving years of service. No more aluminium foil, parcement, Greaseproof Paper - fantastic for calorie and Cholesterol concious.
Nilco have a great name for professional Quality Cleaning products, for use around the home or in the commercial kitchen they have many products for every day use. This Descaler is great for coffee makers, kettles and other household products.
(C) BBS ltd www.magimix-spares.co.uk
Goods marked "in Stock" will be despatched Same day if ordered before 3pm.
In Stock
Alternative Options

Magimix XL Disc Support Grey 3200XL 4200...

Magimix Blade, Spindle & Dough Blade...

Magimix Dough Blade 4000 4100 4150 4200 ...

Magimix Spiral Expert 4200 4200xl 5200 5...
Back to Top