Bake O Glide Roll Out Mat 600mm x 500mm for Baking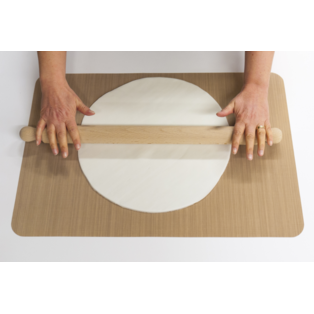 Magimix Reference:
ROLL02
Details:
Non-slip pastry coated work surface. Suitable for Pastry, Marzipan, Sugarpaste, Chocolate and kneading dough. Clean with damp cloth. Dishwasher proof, storage box.
Description:
The original Bake-O-Glide non-slip roll mat. A non-stick reusable mat, with a special non-slip backing that ensures it stays in place whilst in use. with care will last 100`s of times giving years of service.
Size 600mm x 500 Can be used as a heavy duty Non-stick cooking / baking liner, or oven liner, Working temperature -40c to 260c
Easy clean , lightweight, portable, non stick, ideal for rolling out pastry, Marzipan and Sugerpaste, fantastic for kneading dough and chocolate, also suitable non stick for all craft work.
Bake-o-Glide is the trade name for a PTFE-coated fabric that is often used as a non-stick baking sheet. PTFE (polytetrafluoroethylene) was discovered and developed by Dupont, whose trade name for it is Teflon®. It is a fluorocarbon plastic - a plastic where the hydrogen normally found in association with carbon in organic materials has been replaced by fluorine. This produces a number of remarkable properties; PTFE is reputedly the most inert substance known to man affected only by a number of uncommon substances at high temperatures, and is therefore suitable for food-contact. It is also very low-friction, non-stick and easy-clean. It is resistant to fungus, mildew, chemical corrosion and moisture, and because it resists extreme heat and cold it can be used in both the oven and freezer.
"In Stock" is sent Royal mail Tracked 24hrs (before 3pm working days)"
In Stock
Alternative Options

Magimix Dough Bowl 4150 4200 4200xl - Me...

Magimix Dough Bowl 5200 5200xl - Metal 1...
Back to Top