Bake O Glide Anti Slip Roll Out Mat 600mm x 500mm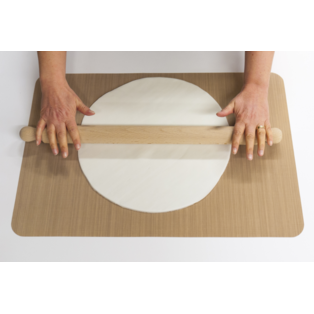 Magimix Reference:
ROLL02
Details:
Non-slip pastry coated work surface. Suitable for Pastry, Marzipan, Sugarpaste, Chocolate and kneading dough. Clean with damp cloth. Dishwasher proof, storage box.
Description:
The original Bake-O-Glide non-slip roll mat. A non-stick reusable mat, with a special non-slip backing that ensures it stays in place whilst in use. with care will last 100`s of times giving years of service.
Size 600mm x 500 Can be used as a heavy duty Non-stick cooking / baking liner, or oven liner, Working temperature -40c to 260c
Easy clean , lightweight, portable, non stick, ideal for rolling out pastry, Marzipan and Sugerpaste, fantastic for kneading dough and chocolate, also suitable non stick for all craft work.
Goods Ordered (marked "in Stock") will be dispatched same day if ordered before 2pm.
In Stock
Alternative Options

Magimix Dough Bowl 5200 5200xl - Metal 1...

Magimix Dough Bowl 4150 4200 4200xl - Me...
Back to Top