Magimix Blender parts
This powerful and quiet Magimix blender uses a unique mixing system for a finer blend. The heat-resistant borosilicate glass jug has a watertight lid and pouring lip for complete ease of use. 600rpm >1500rpm with a turbo pulse function for a creamier texture. Automatic pre-set functions for soup, smoothies, frozen desserts and crushed ice ensure you don't have to muddle through confusing settings: simply press a button and you're on your way to delicious, healthy snacks and meals. A large 1.8L capacity glass jug provides plenty of space, and thanks to a 1200W output it won't be long until you are enjoy the fruits of your culinary labour! The Magimix blender is designed to be easy to clean and completely disassembles. You can be creatively experiment using the included recipe book. 380mm high x 160mm deep x 140mm deep.
| | | | |
| --- | --- | --- | --- |
| | | | |
| Magimix blender | Blender parts | Additional Spice mill | Robot coupe Stick Blender |



Magimix liquidiser
With a Magimix blender (See Blender in use) you can be sure that all of your ingredients, no matter what their texture will be blended to perfection. You can prepare many dishes without disruption thanks to its distinctive design and powerful performance. Every kitchen will be an efficient and truly enjoyable place to prepare food with this blender feature addition , and your work surface will not be cluttered as it simply fits inside the main bowl with out the need of an additional blender. Your Magimix blender will provide you with the quality and power that will enable you to create and enjoy your favourite recipes in all seasons, and at any time of the day or night. Your culinary routine will be revolutionised by this outstanding piece of kitchen equipment, and you will want to create the experience of efficient food preparation many times over. Your family and friends will always want more when you create tasty treats with your Magimix blendermix.
Blender Parts
BBS ltd stock a full range of magimix Blender spare parts, we try to keep in stock at all times. Your blenders feature can help to transform your daily routine as it will save you so much time when you need to prepare food quickly. The powerful technology that is inbuilt will help you to create an array of delicious recipes in minutes so that your schedule is not disrupted. If you do happen to have more time it will be simple and pleasurable to experiment with your blender; you can add as many ingredients, including fruit and vegetables and spices, as you wish and wait to try the tasty results. Entertaining will be no problem as you can put together a mouth-watering menu for as many people as you need to in no time at all, and your guests will always want to return for more. You can make yourself a tasty treat when you want to be spoiled and enjoy it in minutes. With the perfectly designed form and clean lines of your blender you can give it pride of place in your kitchen, and enjoy its elegant chrome appearance. You will have plenty of room to manoeuvre around the blender while it sits on your kitchen worktop and enjoy the convenience of it being within easy reach. Your Magimix blender mix will make it easy for you to enjoy all kinds of recipes that you may not otherwise have thought to create.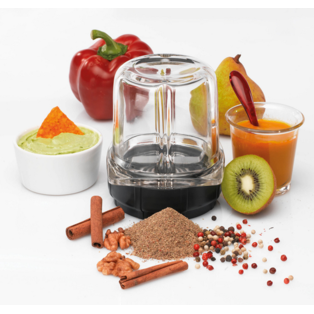 This powerful mill attachment has specially designed blades to allow simple grinding of spices and coffee beans in seconds, The heat-resistant borosilicate glass jug has a watertight lid for complete ease of use. Fits on top of the blender ideal for making Tandoori spice mix, homemade Curry paste, minted mango chutney, Barbeque spice mix, parma violet sugar, spiced salt, Tapenades, salsa, creole dips and excellent for Baby food. This will fit the Magimix blender model s 11610 11615 11619 11611 11613 11627 11628 11629.
Robot coupe stick blender for the commercial kitchen are the closest yet to absolute stick blending perfection. Safe to use, simply efficient, these latest models represent a revolution in hygienic food preparation. The hand held design features a powerful motor, which allows the processing of quantities up to 200 litres. The range offers Mixers, Whisk and Variable Speed functions to achieve perfect results when making soups, sauces, chocolate mousse, pancake batter, mashed potatoes, whipped cream, beaten egg whites, onion gravy, and so on. All the machines are ergonomically designed, with safety, water-tightness and ease of cleaning of paramount importance. User-friendly features include speed self-regulation system to guarantee better working comfort and processing consistency. Wall holders are supplied for easy storage of the machines. There is three groups of these robot coupe hand blenders first the Robot coupe mini range of stick blenders ideal for caterers for use on small capacities of emulsions, sauces and coulis.these are the robot coupe Stick blenders MMP mini range. Then there is the compact range of stick blenders ideal for caterers for use on up to 45 litre capacities of emulsions, sauces and coulis some models with whisks these are the CMP stick blender or compact range then there is the MP stick blender or standard range for use on up to 300 litre capacities of emulsions, sauces and coulis some models with whisks. So weather you are small caterers or large food producers there is a professional stick blender from robot coupe.
Company No. 2747961 Vat Registration Number 591 8084 13
BBS ltd blender mix food Preparation Equipment - Retail and Trade
Back to Information Index
Back to Top