Magimix 3200 XL Guide
Magimix 3200 XL Food Processor
Details: This Magimix 3200xl Food processor has a powerful 650w commercial induction motor with 30 year guarantee (for normal domestic use - Basically the same you would have in a washing machine with no belts or brushes)
Ideal for a small family, a space saving and versatile food processor with all the functions you need every day in the kitchen, this will allow you to deal with the following capacities
1kg of pastry,

600g dough,

blend 1 litre soups,

chop 750g Meat,

whisking 5 egg whites
With the three bowls, the Compact 3200 xl mainbowl allowing you to Chop, Puree, produce dough / pastry, blend, whip egg whites, and many other jobs. The midi bowl extra large feed tube allows large amounts of slicing and shredding to be achieved quickly.
The Magimix Compact 3200xl is supplied in 5 colours White 18360, Satin 18361, Black 18363, Red 18364 and Cream 18365.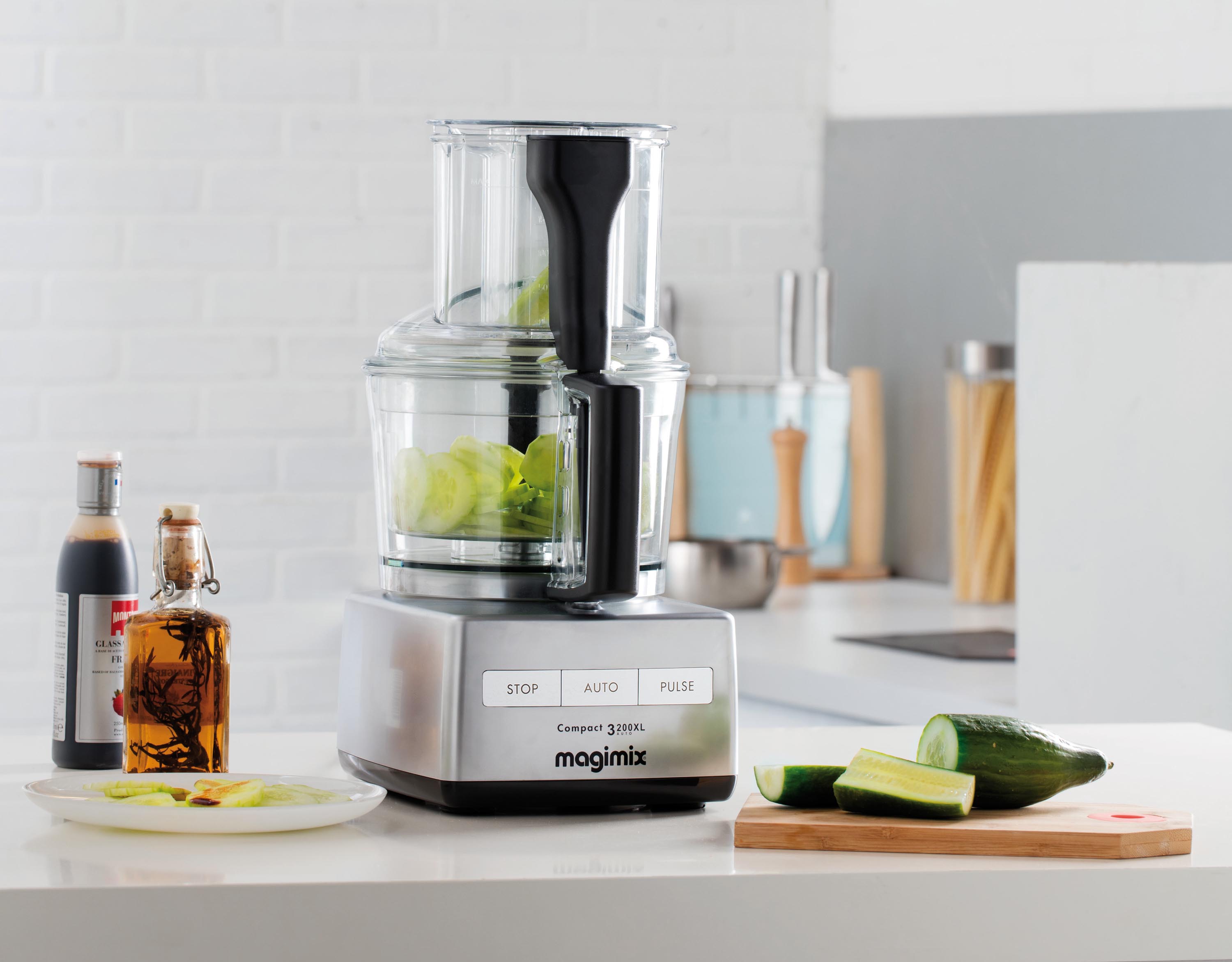 The Magimix 3200XL is delivered with...
•Main bowl with extra large feed lid and pusher - for mincing, mixing, chopping, kneading, grating, slicing, emulsifying, beating and more.
•Midi bowl with Disc support for slicing and Grating vegetables, fruit and other food preparation,New 30 year motor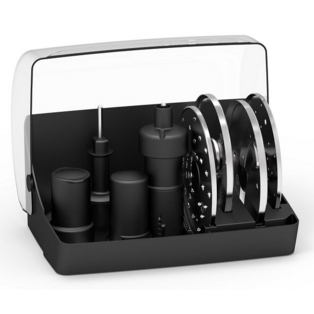 guarantee
•Mini bowl with Mini Blade for chopping herbs, onions, salad dressings and Baby food.
•2mm slicing disc for thin slices,
•2mm grating disc for fine grating,
•4mm slicing disc For medium slices like tomatoes,
•4mm grating disc very popular for cheese and carrots,
•BlenderMix attachment improves the blender function of the food processor for better soups, pancake batter, milkshakes and smoothies.
•The Magimix dough blade, for Pastry, bread Dough, Pasta dough and Brioche.
•Egg whisk for whipped cream and fluffy meringues.
•The main sabatier stainless blade, for purees, crushing, chopping & liquidising.
•Also includes a instruction book Ma cuisine with over 100 recipes, tips and diagrams.
•Storage Box for attachments.
•Magimix Motor is a Induction motor basically the same as a washing machine and so strong it is guaranteed for 30 years
•All parts are Guaranteed for 3 years for normal domestic use. There is no Commercial warranty with this product.
•H395 x L190 x D225 mm•
•More Compact than stand mixers and more versatile. Multi tasking.There are lots of extras you can get depending on jobs you need for your particular Kitchen
More for Accessories available for Magimix 3200 XL
Magimix Creative Kit 3200 4200 5200 3200xl 4200xl 5200xl - Reference: 17653 The kit includes a julienne disc, an extra wide julienne disc, and a fluted disc for cutting fresh fruit and veg & Storage
Juicer / Smoothie Kit, A juice and coulis kit , For homemade juice, smoothies, jams, jellies & sorbets.17651
Citrus Press 4200xl 5200 xl, Ideal for juicing citrus fruits. 17423
6mm Coarse Grater Disc for 3200,4200, 5200 & XL Model - Reference: 17368 Coarse grating disc is Ideal for crunchy coleslaw, apple, cheese, mozzarella shredding cabbage, onions, carrots, shredded potatoes for potato rosti.
Magimix 6mm Slicing Disc 3200 5200 4200 5200xl 4200xl 3200xl - Reference: 17371 Thick or large slicing disc ideal for preparing vegetables for casseroles. Allso for eggs peppers, courgettes, kiwi, beetroot, leek, melons, aubergines
Magimix Parmesan Disc 3200 4200 5200 4200XL 5200XL - Reference: 17372 Ideal for very quick fresh Parmesan, Ice cube grater to make crushed ice, breadcrumbs and to also make grated chocolate for desert toppings.
Magimix 2 x 6 Julienne Cutter 3200 4200 5200 4200xl 5200xl - Reference: 17016 Ideal for 2mm x 6mm vegetable strips. A tip for "straight" julienne carrots is to chill the carrots,or use from fridge and place into feed tube horizontally.
Magimix 12 x 2 Julienne Disc 3200 4200 5200xl Patissier - Reference: 17017 Extra wide Julienne 12mm x 2mm Ideal for strips of ham, thick shredding of fruit and vegetables strips for stir fry 3200 4200 5200 & Patissier
Magimix Fluted Disc For 3200, 4200 5200 all XL & Patissier - Reference: 17018 fluted disc for ripple cut vegetables and fruit, gives a salad or fruit salad a professional look, 6mm ripple cut slicer or 6mm fluted.
Magimix Julienne Cutter 3200 4200 5200 4200xl 5200xl 17373 - Reference: 17373 2mm x 2mm vegetable strips julienne for matchsticks carrots is to chill the carrots, from fridge and place into feed tube horizontally.
Magimix 1mm Slicing Disc 5200 3200 4200 3200xl 4200xl 5200xl - Reference 17431 Magimix 1mm slicing disc 5200 3200 4200 3200xl 4200xl 5200xl For very fine slicing. for crisps or thin fruit slices only available from BBS ltd.
Extra Disc Kit 3200 4200 5200 3200xl 4200xl 5200xl - Reference: 17043 This kit includes a 1mm slicer disc for very thin slicing. 6mm grater for Coleslaw Parmesan disc for hard cheese chocolate & ice Storage Box Provided
Magimix Creative Kit 3200 4200 5200 3200xl 4200xl 5200xl - Reference: 17653 The kit includes a julienne disc, an extra wide julienne disc, and a fluted disc for cutting fresh fruit and veg & Storage
Magimix 3200 XL Spare parts, 3200 XL Accessories
Back to Information Index
Back to Top