Green Star Oven Gauntlet 100% Cotton, Made in UK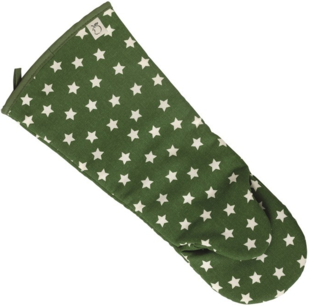 Magimix Reference:
826285
Details:
Oven Gauntlet - made from 100% cotton with insulation tested to british standard BS6526 made in the UK, to match the Green star set .
Description:
This stylish Oven Gauntlet, Glove finished in Green Star design with a green background and Polka dot design , is practical and built to last, the materials are cut and folded from the same material as the apron, this is 100% cotton, Made in Norwich, England. The gloves have a special steam grease barrier for extra heat protection.
One glove only - Photo shows both sides.
Goods Ordered (marked "in Stock") will be dispatched same day if ordered before 2pm.
In Stock
Alternative Options
Willow Star Design Apron 100% Cotton, Ma...

White - Front of House Apron Service Apr...

Black - Front of House Apron Service Apr...

White Chefs Hat, Traditional Hat for Che...
Back to Top