Magimix Christmas cake Recipe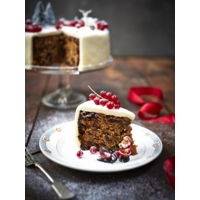 Author: Jamie Oliver Magazine
Ingredients
600 g raisins
200 g currants
100 g dried sour or glacé cherries
250 g mixed dried fruits try prunes, apricot, apples, pears finely chopped
400 ml of your preferred tipple plus extra to 'feed' the cake (brandy, sherry, Tia Maria, rum... all work well)
300 g butter at room temperature
200 g dark brown sugar
1 lemon
4 eggs at room temperature
2 tbsp treacle I used golden syrup
300 g plain flour
1/2 tsp ground ginger
1 tsp ground cinnamon
a pinch of ground cloves
150 g ground almonds
150 g walnuts chopped
The night before.
Place the dried fruit in a saucepan with the chosen tipple and bring to a simmer. Pour into a bowl, cool, cover and leave to soften.
The following day
Preheat the oven to 150C/gas 2 and line the base and sides of a 23cm round tin or a 20cm square tin with a double layer of greaseproof paper. You'll need the side lining to be a good 8cm higher than the tin.
If you'd like your cake to be particularly moist, blitz half the soaked fruit in a Magimix food processor to make a paste, and stir back into the rest of the fruit.
In a the large Magimix bowl, add the butter and sugar and remove the small Pusher in the lid to allow air to flow, cream the butter and sugar until light and fluffy do not over process. Take out the main blade and add the disc support and 2mm grater to a Grate in the zest of your lemon and add in the eggs, one at a time through the feed tube. also pour in the treacle. Sift the flour into a bowl and combine with the spices and ground almonds. open the food processor and add half into the butter mixture, push pulse until mixed add the other Half until mixed then the soaked fruit. Finally, add in the walnuts and push pulse a coupe more times.
Spoon the mixture into the lined tin and bake in the oven for about 3 hours. Check after 2½ hours and then every 20 minutes, or until a skewer comes out clean.
As soon as the cake comes out of the oven, brush with a little more tipple. Leave to cool in the tin for 5 minutes and then remove, placing it directly onto a large sheet of tin foil. Wrap it up twice to retain the heat for as long as possible. After a few hours, remove the foil and wrap the cake up again in a double sheet of greaseproof paper and a double sheet of tin foil, making sure you can access the cake from the top. Store in an airtight container for 2–12 weeks. During this time, feed the cake the tipple of your choice by gently pouring it over the top and rewrapping.
Frosting
Frost this traditional cake with a soft topping made by whipping together mascarpone cheese and cream with 2 tbsps of icing sugar using the Magimix Egg whisk attachment, Spread evenly the frosting over the cake and decorate with some glacé cherries or Christmas decorations.
Servings: 16
** Use tradtional a Marzipan Recipe here Marzipan
** Royal icing here Royal Icing
Back to Information Index
Back to Top