Magimix Disc Support for 2100 3100 4100 5100 3000 4000 5000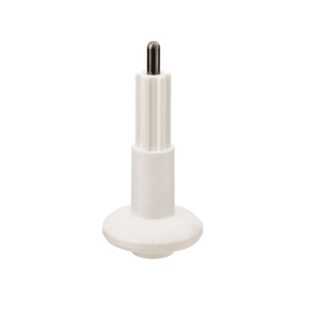 Magimix Reference:
103156
Details:
White disc holder for use with discs on the cuisine systeme range, joins spindle to disc **new model now only available "skirt" stops liquid going down spindle. 17606
Description:
If taken out of of the Dishwasher please run under cold water before use otherwise the plastic will be softer, can cause damage.
The following discs use 103156 disc support – as supplied with machines.
Magimix 4mm grater disc for 3000 4000 5000 2100 3100 4100 5100 Model - Reference: 17614 Medium grater ideal for grating cheese and carrots.Good for coleslaw. The larger the grater the crunchier the coleslaw.
Magimix 6mm Coarse Grater 3000 4000 5000 2100 3100 4100 5100 Model - Reference: 17616 Coarse grating disc is Ideal for crunchy coleslaw, apple, cheese, mozzarella shredding cabbage, onions, carrots, shredded potatoes for potato rosti.
Magimix 4mm slicer 3000 4000 5000 2100 3100 4100 5100 - Reference: 17640 Medium slicer is ideal for tomatoes, cucumbers, lettuce, apples, courgette, peppers, Celery, mushrooms plus other fruit and vegetable preparation.
Magimix 6mm Slicing Disc 3000 4000 5000 2100 3100 4100 5100 - Reference: 17660 Thick or large slicing disc ideal for preparing vegetables for casseroles. Allso for eggs peppers, courgettes, kiwi, beetroot, leek, melons, aubergines
Magimix Parmesan Disc 3000 4000 5000 2100 3100 4100 5100 - Reference: 17609 Ideal for very quick fresh Parmesan, Ice cube grater to make crushed ice, breadcrumbs and to also make grated chocolate for desert toppings.
Magimix Julienne Cutter 3000 4000 5000 2100 3100 4100 5100 - Reference: 17608 2mm x 2mm vegetable strips julienne for matchsticks carrots is to chill the carrots, from fridge and place into feed tube horizontally.
Magimix Disc Storage Rack for Storing 6 Discs. Reference 17029 Ideal for keeping Magimix discs out of the way of hands in the busy kitchen. Use either free-standing, laying horizontal or wall mounted for storing the discs.

This product has a Magimix Three year guarantee for domestic use

Click images below - to see other Kitchen Gadgets from BBS ltd
BBS supply a range of high quality bake ware, stylish cookware, kitchen gadgets, tools, utensils and kitchen Equipment accessories. We have extensive knowledge of cooking and baking and have used this to choose robust and innovative kitchen accessories.
C`est Ca! Aprons are Practical but stylish garments they are made in Norwich, England from quality 100% cotton.
Belle is an exciting range with panelled Aprons, standard Aprons, gauntlets, oven gloves and even a matching shopping bag you will really be accessorizing the kitchen with these glamorous kitchen items.
Bake-o-glide has a variety of different cookware products including The original Bake-O-Glide Multigrade, Superior non-stick, reusable cooking liner Smoother, stronger and thicker. 100%PTFE coating, with care will last 100`s of times giving years of service. No more aluminium foil, parcement, Greaseproof Paper - fantastic for calorie and Cholesterol concious.
Nilco have a great name for professional Quality Cleaning products, for use around the home or in the commercial kitchen they have many products for every day use. This Descaler is great for coffee makers, kettles and other household products.
Microplane Graters are made in the USA and are the finest stainless steel ideal for use around the home and robust enough for use in commercial kitchens, there is a range of Zesters, ribbon graters, coarse graters and spic
Goods marked "in Stock" will be despatched Same day if ordered before 3pm.
Available to Order ( Contact 01252-727755 for delivery info)
Alternative Options
Magimix Juicer 3000 4000 5000 2100 3100 ...

Magimix French Fry Disc 2100 3100 4100 5...

Magimix Disc Storage Rack For Storing 6 ...
Back to Top