Magimix Juicer, Smoothie Maker 4200 5200 4200XL 5200XL model
Details:
Magimix juice and puree kit is ideal for extracting from fruit and vegetables. Can be used to make quick and easy smoothies, also for 4150 and 5150 models
Description:

This product has a Magimix Three year guarantee for domestic use
Magimix 17652 Juice attachment and smoothie maker is ideal for most hard and soft fruits and vegetables, take out the internal paddle and this can be used for normal juices like apple juice or carrot juice also the mesh basket is great for sieving soups, simply put your cooked vegetables into feed tube and the attachment sieves the soup or put in the paddle for a higher yield for smoothies, coulis & jams (the paddle pushes the pulp into the side mesh so this produces a thicker Jus from bananas and strawberries) includes heavy duty juice extractor basket, large capacity cylindrical basket for optimum juice extraction, includes funnel for strawberries and other soft fruit,the Magimix smoothie maker kit is also great for making jams, jellies, sorbet and soups.replaces the Magimix 17638 Only for Magimix Food processor models 4150, 4200, 5200, 4200xl, 5200xl, 5150 and Magimix Patissier only, Will not fit other models, please check !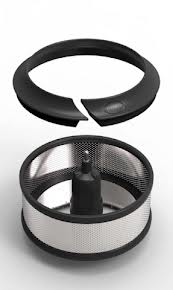 New design juice Extractor Basket - makes this easier to clean, the top rim of the basket is removable
Recipe idea : Strawberry Jam - wash and hull 1.5kg of strawberries, process in coulis maker then pour into saucepan and heat. in a separate bowl mix 40g of pectin with two tablespoons of sugar, spinkle this on strawberry coulis and stir with wooden spoon, bring to boil for 3 minutes stirring constantly. Add 1 knob of butter and 1.6kg of sugar bring back to boil for 3 more minutes stirring all the time when 3 minutes are up fill 6-8 sterilized (or taken directly from dishwasher) jam jars to top, seal the jars immediately and tilt backwards and forwards to remove air, then leave to cool. Serve on freshly baked bread.
Juicer for compact 3200 or 3150 please click here
Juicers from BBS ltd

"In Stock" is sent Royal mail Tracked 24hrs (before 3pm working days)"
In Stock
Alternative Options
Magimix 4000 4100 4150 4200 - XL Bowl Up...

Magimix Spatula Grey Plastic Juicer &amp...

Magimix Food Processor Paddle 3200 4200 ...

Magimix Mash Potato Moulis Kit XL Food P...

Magimix Juice Extractor Drum Basket with...

Magimix 4200xl Food Processor Cream Blen...
Magimix Extra Press Kit 4200 5200 4200xl...

Magimix Juicer Attachment Replacement Re...

Magimix Juice Basket & Ring *** New ...

Magimix Le Duo XL Plus Juicer & Smoo...
Magimix Cuisine 5200xl White Spiral Expe...
Magimix Cuisine 5200xl Satin Spiral expe...

Magimix Blendermix Ring 4100 5100 4200 5...
Back to Top