Magimix Toasters

The vision toasters revolutionise the way we look at toast with its groundbreaking new Vision Toaster. Incorporating the stylish, sleek design lines that are synonymous with the brand, the Magimix Vision Toaster 11526 is the very first of its kind to boast clear glass sides which allow you to see your toast as it browns and ensure that every piece is - just the way you like it.15 years of research and development have led to a real breakthrough in browning technology. This technology has enabled Magimix to create a toaster which gives you complete visual control. The long life quartz elements give constant heat for consistent browning. Add in an extra wide slot with automatic self bread centering and an extra lift lever to allow smaller pieces to be removed safely and the result is a brand new, versatile toaster which not only toasts bread to perfection, but can also be used for warming or browning baguettes, muffins, crumpets, buns and teacakes.
The Magimix Vision 2 slice Toasters will appeal to all, satisfying both curiousity and practical need while the stunning design will appeal to the style conscious wishing to surround themselves with the very best-looking kitchen equipment. The double insulated glass windows have been carefully designed for easy cleaning so the machine stays looking good.
The professional 4 slice toasters, are quite unique with extra long slots ideal for toasting bagettes, paninis or for just 4 slices of thick or thin bread with extra wide slots with automatic centering for toasting, there is a bun warming rack for warming delicious croissants, rolls or keeping toast warm. With
Magimix 4 slice toasters
you can toast, defrost or reheat most types of bread including large doorstep slices, half baguettes, bagels, croissants, buns, teacakes, crumpets, brioche, waffles and endless others. This 4 slice toaster will toast both sides or even has a one side toasting option, with accurate browning and replaceable 2000 watt commercial elements and an amazing 3 year guarantee. An ideal stainless steel toaster for the larger than average family these toasters are built for quality and strength, and these Toasters come in satin to compliment the
food processor
. Magimix have thought of everything and built with the robustness of all products with this reason alone they work well and are built better to last longer. With a range of matching toasters, equally built for quality and strength, these will compliment any kitchen.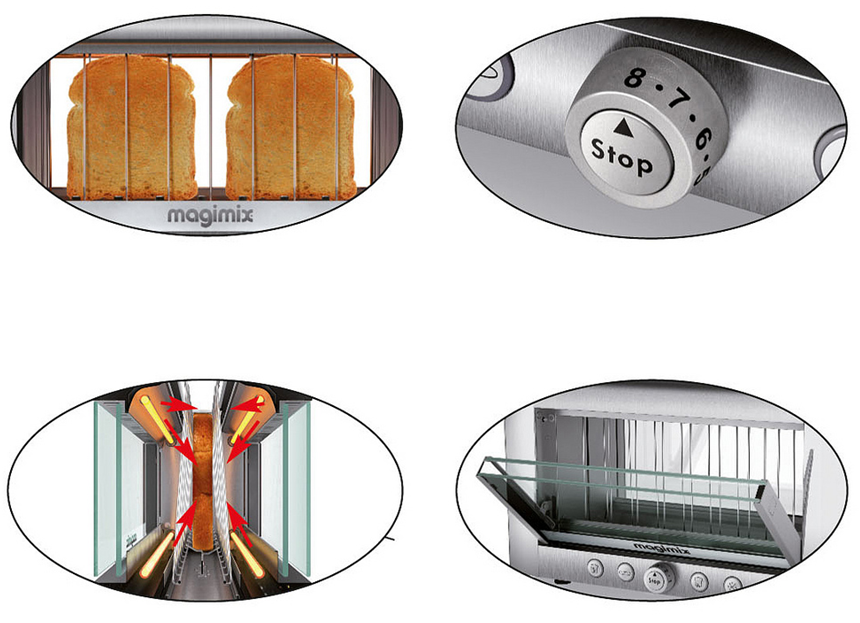 Company No. 2747961 Vat Registration Number 591 8084 13
BBS ltd suppliers of toaster and kettles - Retail and Trade
Back to Information Index
Back to Top