Magimix 3100 Lid For Compact 3100 or 2100 Top Cover Only.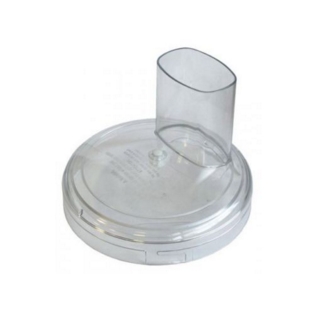 Details:
Magimix 3100 Compact, & 2100 Compact Clear lid, If tight please apply olive oil. If cleaning in dishwasher try to avoid drying programme. Note: pusher not included.
Description:

This product has a Magimix Three year guarantee for domestic use
Genuine Magmix 17223 part for Compact 2100 and 3100 lid, pusher not included click here for pusher
The Tritan lids are easy to clean with warm water and washing up liquid, however they are also "dishwasher safe" they are safe to wash at 40c on the top rack, but you should try to avoid the drying programme, also you are advised to use powders and liquids "suitable for plastics" rather than tablets as this will cause deterioration, marked, crazed, brittle or opaqueness, resulting in shorter life. Wash Bowl in cold water only to get rid of onion or Strong smells
This Part is also used with the slice / grater on the 18060 or 18061 salad and Juice models.

Click images below - to see other Kitchen Gadgets from BBS ltd
BBS supply a range of high quality bake ware, stylish cookware, kitchen gadgets, tools, utensils and kitchen Equipment accessories. We have extensive knowledge of cooking and baking and have used this to choose robust and innovative kitchen accessories.
British Textile Aprons are Practical but stylish garments they are made in Norwich, England from quality 100% cotton.
Belle is an exciting range with panelled Aprons, standard Aprons, gauntlets, oven gloves and even a matching shopping bag you will really be accessorizing the kitchen with these glamorous kitchen items.
Bake-o-glide has a variety of different cookware products including The original Bake-O-Glide Multigrade, Superior non-stick, reusable cooking liner Smoother, stronger and thicker. 100%PTFE coating, with care will last 100`s of times giving years of service. No more aluminium foil, parcement, Greaseproof Paper - fantastic for calorie and Cholesterol concious.
Nilco have a great name for professional Quality Cleaning products, for use around the home or in the commercial kitchen they have many products for every day use. This Descaler is great for coffee makers, kettles and other household products.
(C) BBS ltd www.magimix-spares.co.uk
"In Stock" is sent Royal mail Tracked 24hrs (before 3pm working days)"
In Stock
Alternative Options
Magimix Compact 3100 3150 3200 - Bowl Up...

Magimix Pusher Graduated for Food Proces...

Magimix 2100 Bowl, White Only Magimix Mi...

Magimix Pusher and Oil Dribble To Add Oi...
Willow Star Design Apron 100% Cotton, Ma...
Magimix 3100 Bowl, No Longer Available p...
Back to Top