Magimix Instruction & Recipe Book Food processor Ma Cuisine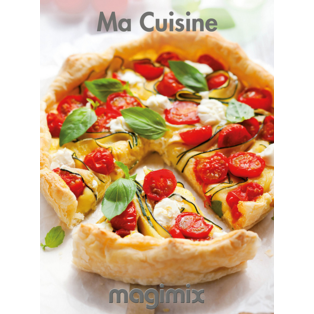 Magimix Reference:
460007
Details:
Instruction book for Magimix food processor, Ma Cuisine. Includes recipe's for soups, starters, main courses, breads cakes, desserts. 128 page Hardback 59205
Description:
Magimix Recipe and instruction Book, The recipes in this book can be used for all Magimix food processors.
Magimix Recipes in this book include :-
Magimix Sauce recipes
Aïoli sauce, Béarnaise sauce, Cheese puffs, Cocktail sauce, Garlic Butter, Guacamole, Ham and olive cake, Mackerel dip, Mayonnaise, Mint sauce, Pesto, Tapenade, Tartare sauce.
Magimix Bread & Baking Recipes
Baguettes, Challah bread, Country bread, Fougasse, Leek, kale and prosciutto quiche, Plaited brioche, Sandwich loaf, Scones, Traditional brioche, Veggie pizza.
Magimix Soups Recipes
Chilled carrot soup, Chilled pepper and mascarpone soup, Cold mint pea soup, Country soup, Cream of cauliflower with diced bacon, Cream of courgette, Pumpkin soup.
Magimix Starter Recipes
Coleslaw, Country pâté, Crunchy veg and pasta salad, Parmesan soufflé, Salmon blinis, Salmon rillettes, Spring vegetable clafoutis, Tomato and mozzarella, bruschetta.
Magimix Vegetable Recipes
Celeriac purée, Potato gratin, Potato rösti, Provençale vegetable tian, Ratatouille, Sweetcorn pancakes, Vegetable crisps,
Magimix Fish Recipes
Crab cakes, Fish pie, Hake and vegetable julienne parcels, Oriental fishcakes, Salmon tartare, Smoked salmon soufflé,
Magimix Meat Recipes
Beefburgers, Cottage pie, Curried lamb filo parcels, Kofta kebabs, Stuffed tomatoes, Steak Tartare,
Magimix Dessert recipes
Apple and kiwi crumble, Butternut squash and hazelnut Brownies, Caramelised apple tart, Cheesecake with raspberry coulis, Lemon meringue pie, Melon and pineapple fan, Pavlova, Peach clafoutis, Pear and chocolate muffins, Shortbread, Tiramisu, Victoria sponge cake, Walnut cake.
Children's teatime treats
Chocolate cookies, Chocolate mousse, Chocolate tart, Fruit jelly, Instant mango ice cream, Lemon meringue pie
* A pdf copy of the recipe and instructions for Magimix Food Processor can be downloaded here
"In Stock" is sent Royal mail Tracked 24hrs (before 3pm working days)"
In Stock
Alternative Options

Magimix Le Mini Plus Recipe and Instruct...
Back to Top